August 3, 2006


September 12, 2005
This palmcast is 5 minutes and 55 seconds long. It discusses a great example of an open source application in the Palm community called CryptoPad.
Discuss | Archives

---
In Review: Martin Fields Overlay Plus PDA Screen Protector
Lance Wehrung | February 19, 2004
---
To be honest, I am really not an expert when it comes to screen protectors. I have not taken the chance on trying different screen protectors. I have, basically, stuck (pardon the pun) with what I started using on my Palm Pilot 1000, which are the adhesive-type screen protectors that reduced glare and gave the screen a paper-like writing finish. Since then, I have continued to use the WriteRight screen protectors for all my devices including the 50+ devices I support at work.

Now, I have read many reviews on screen protectors, but I have not been persuaded enough to change what I was using, especially at the chance of losing $10 - $15 if the product did not live up to my expectations.

Finally, I have an opportunity to try a different screen protector, the Martin Fields Overlay Plus PDA Screen Protector. In this case, it was worth the wait!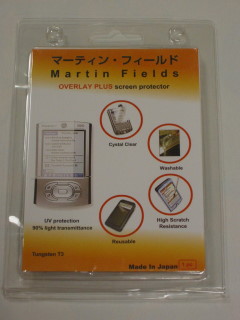 DETAILS

The first thing I noticed was that the screen protector was a rigid plastic, not a soft flexible piece of plastic like the WriteRight I used to use. This made me feel even better about the protection of the Martin Fields product. In addition, this made the product easier to install with excellent results. The gentle adhesive backing also aided in the ease of installation. It was simple to align with the screen, and there were no air bubbles in the installation. I applied it perfectly, the first time.

Something else I noticed before I even installed it on my device, the Martin Fields Overlay Plus screen protector is crystal clear. Just to show the clarity, I took a picture with the screen protector half way covering the back of a gift card (see below). Can you tell which half is covered by the screen protector? Half of the card is covered by the Martin Fields Overlay Plus screen protector (with the adhesive backing still on)! Like I said, "It is crystal clear!" With this screen protector installed, you see all that you meant to see. There is not a hint of distortion or discoloration of the screen. It does all a screen protector is suppose to do, protect the screen without you realizing it is there. It is simply beautiful!

By the way, the screen protector provides UV Protection (90% light transmittance). It is reusable. It is washable. Unfortunately, I did not test any of these claims. I only had one, and I did not want to take the chance. ;)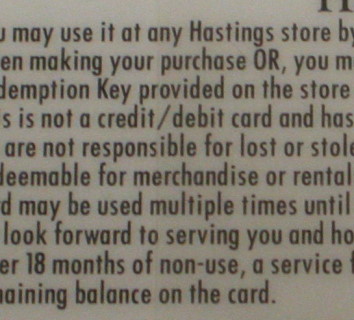 CONCLUSION

While I hate to even say anything, there are a few subjective issues to consider before I make my recommendation. First, the writing surface is very smooth, which makes it easier to write with less friction to overcome. At the same time, I understand you might want a rougher surface, similar to writing on paper. I do not understand why you want to create more work for yourself, but I know this is something I need to mention. The smooth surface is also suseptible to smudges and fingerprints. Second issue to consider, you might want the protector to reduce glare. I find myself adjusting the angle of my device no matter which screen protector I use, so I do not think this issue is a concern. In addition, I think you reduce clarity when you reduce glare (too much of a compromise to me). Anyway, we all have preferences, and selecting a screen protector is no different. ;)

Now, where was I? Oh, yes...

I highly recommend the Martin Fields Overlay Plus screen protector, period! I love the protection the harder plastic provides and the effortless writing the smooth surface provides. Most of all, I love seeing my beautiful, 320 x 480, 16-bit color screen the way it was meant to be seen! I even find myself turning on my T3 just to look at the screen. I have not done that since I first bought it. I have fallen in love with my T3 all over, again. Thanks Martin Fields!

Click Here to View Devices Supported by Martin Fields or To Place an Order