August 3, 2006


September 12, 2005
This palmcast is 5 minutes and 55 seconds long. It discusses a great example of an open source application in the Palm community called CryptoPad.
Discuss | Archives


---
| | |
| --- | --- |
| Latest News and Information | |
---
---
Tue Aug 30, 2005 12:50 pm
BargainPDA.com came across an exclusive article at CoolTechTimes.com. It claims that Palm will be releasing a Palm Treo 700. Among the specifications, it lists:
1.3 MP Built-in Camera with 8x Zoom

EVDO Capability for Sprint and Verizon Customers
There are slight physical changes such as rounded edges, a less protruding antenna, and an extra button on the left side of the device. It also alludes to a lightly larger screen even though it keep the same 320x320 resolution.

Article at BargainPDA.com

Note: While there is no confirmation of this rumor, Palm always has been known for small incremental upgrades.
Permalink | Discuss (0)
---
Tue Aug 30, 2005 12:48 pm

I am working on the first edition of the PalmFocus newsletter. I just thought I would see if there were any topics that you would like to see discussed.

As a friendly reminder...in order to receive your exclusive copy of the newsletter, please enter your real name and correct e-mail address in the form provided. We will not be using your personal information for any other reason but for the single purpose of sending you our newsletter. In addition, your personal information will not be sold, rented, or shared with anyone else under any circumstance. Thank you.

The form to fill out in order to receive the PalmFocus newsletter is always located in the left hand column of our home page. To be taken there, click here.
Permalink | Discuss (0)
---
Tue Aug 30, 2005 12:46 pm

PalmSource and MontaVista announced that they will be partnering together to create integrated solutions for handsets based on Lunix. Obviously, this will help PalmSource accelerate development of PalmOS for Linux since MontaVista already delivers operating systems for handsets based on MantaVista Linux.

However, It will be interesting to see which one gains the most from this partnership and what becomes as a result. Whatever unfolds, this announcement confirms PalmSource's commitment to develop an operating system based on Linux. I just have to wonder if the result will be PalmOS for Linux, PalmOS for MontaVista Linux, or something new.

Read Official PalmSource Press Release
Permalink | Discuss (0)
---
Tue Aug 30, 2005 12:44 pm
While I was on vacation, Palm announced "that SanDisk(R) Corp. (Nasdaq:SNDK) has chosen Treo(TM) 600 and Treo 650 smartphones running GoodLink for access to email, calendar, contacts, notes and tasks for 225 select employees in the United States, Asia, Europe and Israel."

Today, Palm announced "that Sun Microsystems has deployed 600 Palm(R) Treo(TM) smartphones to its U.S. field services organization for remote and onsite access to Sun's call-management system to better serve Sun customers."

Read Official Palm Press Release about Sun Microsystems
Read Official Palm Press Release about Sandisk
Permalink | Discuss (0)
---
Tue Aug 30, 2005 12:37 pm

I have been working with GX5 on new skins for Pocket Tunes. We just released our first skin called Thumbscreen Free Style several weeks agao. We have released another new skin for Pocket Tunes called iMinimal. We look forward to releasing more inthe future. Until then, here is the product description for iMinimal:

Shuffle your way through this iTunes inspired skin as you enjoy all your digital music in Pocket Tunes. iMinimal combines the minimal design characteristics of iTunes with the needed user functionality for a mobile media player. iMinimal is Thumbscreen ready along with podcast jumping, super fast scrubbing sliders and multiple view modes.

Please note: It only works on Pocket Tunes Version 3.09 and higher. The latest version is 3.1.1.

More Information on iMinimal Skin for Pocket Tunes
Permalink | Discuss (0)
---
Tue Aug 30, 2005 12:37 pm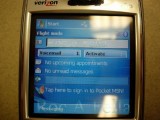 More pictures have been posted on the rumored Palm Treo 670 that will be running the Windows Mobile 5.0 operating system.

You can view them on HowardForums.com, and I have started collecting pictures from the linked sources. Things are getting interesting!

Pictures on PalmFocus
Post at HowardForums
Permalink | Discuss (0)
---
Tue Aug 30, 2005 12:36 pm
Engadget has posted three videos, and there are some pictures on HowardForums. It looks as though the specs are as follows:
Bluetooth

1.3 MP Camera

EVDO
Of course, the biggest surprise is that it is running Windows Mobile 5.0! Supposedly, it will be called the Palm Treo 670. You will want to check this out for yourself.

By the way, you will need to have QuickTime installed to view the videos.

Article at Engadget
Post at HowardForums
Permalink | Discuss (0)
---
---