August 3, 2006


September 12, 2005
This palmcast is 5 minutes and 55 seconds long. It discusses a great example of an open source application in the Palm community called CryptoPad.
Discuss | Archives


---
| | |
| --- | --- |
| Latest News and Information | |
---
---
Tue Aug 30, 2005 1:12 pm

We just sent out our first edition of the PalmFocus newsletter. This marks a significant milestone for us here at PalmFocus. We hope to provide unique information and insights to the subscribers of the newsletter. With our palmcast and newsletter, we hope to connect with a readers in a much more meaningful and personal way.

If you missed out on the first edition, go ahead and subscribe and be sure you do not miss out on the next edition. Just for your information, here is the list of topics covered in the first newsletter.
Welcome to PalmFocus

From Concept to Code - How Trip Boss was Born

Editorial - Palm and Windows Mobile

Jeff Hawkins - Pushing the Technological Envelope

Software Discount at PalmFocus Software Store

PalmFocus and Proporta Giveaway
Thank you, and we look forward to bringing you our next edition.
Permalink | Discuss (0)
---
Tue Aug 30, 2005 1:09 pm

Since the news broke that Amazon.com marked the LifeDrive as a discontinued product, there have been as many or more articles saying that the LifeDrive is not discontinued and that Amazon just made an error.

While it probably was an error, what else do you think Palm is going to say? Why do you think they try to keep news from leaking about new products? If news broke too early of an upcoming product, people would wait for the new product before buying the current product, especially if there were known problems with the current product.

Just because the LifeDrive is not being discontinued does not mean there will not be another model released this fall. In fact, the article over at Brighthand only addresses that the LifeDrive is not discontinued. It does not address the other part of the rumor that suggests a possible LifeDrive II.

In addition, there were three evolutionary products that were released within a year of each other. The Tungsten T was released in the fall of 2002. The Tungsten T2 was released in the summer of 2003. Finally, the Tungsten T3 was released in the fall of 2003. Technically, nothing was immediately discontinued when the next model was released. However, the release schedule was very close to one another to suggest that a new LifeDrive model being released this fall is not improbable.

Important Note: This is all speculation on my part. I have no insider information. However, the facts that I mentioned about the T series devices does not dismiss nor do other news articles dismiss the possibility of a new LifeDrive model. The articles simply suggest that the current LifeDrive model will not be discontinued.

Just something to think about...
Permalink | Discuss (0)
---
Tue Aug 30, 2005 1:06 pm

Well, I thought it was going to be a slow news day. However, I had not read the Monday Editorial over at 1SRC. After scanning the article and the discussion, it appears a 1SRC member found some interesting information on the product listing at Amazon.com. The information notes that the LifeDrive has been discontinued by the manufacturer.

Since I have been unable to confirm this, I will not lean strong one way or the other. However, it would not surprise me if they released a 6 GB drive with a few enhancements for the same price they are selling the current 4 GB LifeDrive. Along the same lines, I would not be surprised if they released the Tungsten X (or whatever they will officially call it) as a replacement for the Tungsten T5 at the same time.

Anyway, this is all speculation, but it does get one to thinking about what Palm will be releasing this fall. I refer to the fall because Palm typically releases new devices in the spring and in the fall. The only exception to this that I can remember off the top of my head was the Palm Tungsten T2.



News Update:

There is a response from a Palm Support employee that addressed this issue over at PalmAddict. While the response confirms they will continue to support the LifeDrive and denounces the release of a LifeDrive II, it is highly unlikely that anyone from Palm would confirm the release of a new model in the fall especially when there is inventory of the LifeDrive to sell. Plus, I have called support previous models that had just been released, and they did not know about it even being released. Anyway, while this says what you think it says, there is really no way of knowing for sure.
Permalink | Discuss (0)
---
Tue Aug 30, 2005 1:04 pm
GX5 has reduced the price of their iMinimal Pocket Tunes Skin. It was priced at $4.95. For a short time, they have slashed the price. It is available for $2.95, now through Sunday, August 28, 2005.

Description: Shuffle your way through this iTunes inspired skin as you enjoy all your digital music in Pocket Tunes. iMinimal combines the minimal design characteristics of iTunes with the needed user functionality for a mobile media player. iMinimal is Thumbscreen ready along with podcast jumping, super fast scrubbing sliders and multiple view modes.

Please note: It only works on Pocket Tunes Version 3.09 and higher. The latest version is 3.1.1.

More Information on iMinimal Skin for Pocket Tunes
Permalink | Discuss (0)
---
Tue Aug 30, 2005 1:02 pm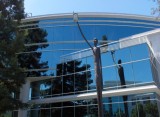 My friend sent me some more pictures of Palm Headquarters. This picture (also the reason for this article) shows a statue holding a mock Palm Treo 650. He did not let me know if was a working Treo or not, but it has got to be the world's largest Palm Treo 650. If nothing else, this has to be the most unique Treo user.

More Pictures of Palm Headquarters

Disclaimer: Yes, it is a slow news day as I am busy working on the first issue of the PalmFocus Newsletter. I still thought you might enjoy the pictures. Take care.
Permalink | Discuss (0)
---
Tue Aug 30, 2005 1:00 pm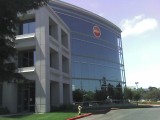 A friend of mine is in California, and he just sent me a picture of the Palm Headquarters. Of course, he used his Palm Treo 650 to take the photo. Then, with a couple of clicks, sent it my way.

If you did not know, Palm recently moved into the building last month when they changed their name from PalmOne to Palm. Anyway, I guess with the Treo 650 selling well, they can afford a nice place. Hopefully, they can continue to afford it. Take care.

Picture: Palm Headquarters
Permalink | Discuss (0)
---
Tue Aug 30, 2005 12:59 pm

I recently got a Palm LifeDrive, and I performing several tests on battery performance. There are some interesting results. You can read them in the Device Spotlight for the Palm LifeDrive. I will be sharing more information as I begin setting it up as my primary device. Even though I own a Treo 650, I will be dusting off my Sony Ericsson T616 to use with the LifeDrive to make sure I stay with it.

Device Spotlight: Palm LifeDrive Mobile Manager
Permalink | Discuss (0)
---
Tue Aug 30, 2005 12:56 pm
On Tuesday, August 16, 2005, Palm announced the availability of the Treo 650 smartphone on CTM's GSM/GPRS network in Macau.

Not to offend anyone, but I had not heard of Macau before, so I decided to find out more about it. Here is an excerpt of what the Macau Government Tourism Office had to say: Macau is a Special Administrative Region of the People's Republic of China since 20 December 1999, and, like Hong Kong, benefits from the principle of 'one country, two systems'. The tiny SAR is growing in size - with more buildings on reclaimed land - and in the number and diversity of its attractions. The greatest of these continues to be Macau's unique society, with communities from the East and West complementing each other, and the many people who come to visit.

Note: Macau has a population close to 500,000. Not a very large market, but one that shows Palm sharing the Palm Treo 650 with the rest of the world.

Read Official PalmOne Press Release
Permalink | Discuss (0)
---
Tue Aug 30, 2005 12:53 pm
While this product is nothing new, it is something I recently came across when looking at Bluetooth headsets for my Palm Treo 650. I thought there may have been others who missed this when it was released earlier this year.

Anyway, it is a Bluetooth headset that works at the office and on the go. The headset recognizes which phone you are using and automatically connects to it. Thus, you have one headset for all your telephony needs.

I found it ay Buy.com for $134.99 with free shipping and handling. Before I place an order, I am welcome to other suggestions. Just use the contact link at the top of the page. Thanks!

Link to Product Information at GN Netcom
Link to Product at Buy.com
Permalink | Discuss (0)
---
Tue Aug 30, 2005 12:51 pm

For those following PalmFocus, you probably already know I use a Palm Treo 650. It has been in the "device splotlight" since I got it back at the end of May this year. Since I have been intrigued by the device ever since it was introduced, I decided to try out the Palm LifeDrive Mobile Manager for myself. Therefore, it is now in the spotlight as I plan on using it as my primary device for the next several weeks. I have already started with my initial impressions, and I look forward to sharing more with you over the next several weeks.

Device Spotlight: Palm LifeDrive Mobile Manager

By the way, I will still manage to update my other device spotlights listed on the left as well.
Permalink | Discuss (0)
---
---